As I sat this afternoon browsing through blogs procrastinating. I came across
Courtney's Post
Over at
Marriage with a Baby Carriage
I thought that it sounded pretty neat, and since I was so busy procrastinating, thought that I would like up and join in on the fun : )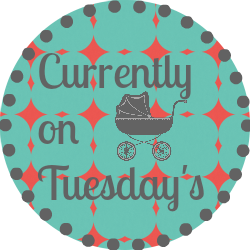 Feeling:
bored and unmotivated, there are so many things I need to be doing, and really should be doing, but I can not seem to muster the motivation to do anything other than sit here on the love seat and surf the web.
Listening:
to a random PS3 game being played on the TV in front of me, no idea what it is called, and honestly no real desire to find out.
Excited:
that is is almost Summer, and that school is almost out. I can not wait for days of sleeping in and being lazy (oh wait I do that now LOL!) ok so I can't wait for warmer weather, and being outside
Watching:
since my Tv has been taken over by a gamer, I am not watching anything, unless of course you count the blogs I have been browsing all afternoon, and then I guess I would have to say I have been watching the screen on my laptop change : )
Not so excited about:
I really can't think of anything in particular I am dreading at the moment, but I am almost positive that will change eventually. However for right now, I am not non excited about anything
Happy:
that I finally feel like my life is settling (even if it is only a little) and I am on the right track with things
Wishing:
that is were dinner time already, crazy wish I know but I am starving and trying hard to not snack on so much over processed junk through out the day, so I am super ready for dinner.
Courtney
said to feel free to add a few things of our own if we wanted, so I think I am going to add a couple
Craving:
Hot wings, and Chinese food. I honestly don't know why I am craving either one, but they both sound so amazing, and I have been craving them both for about 3 weeks now, so the craving is getting a bit out of control
Drinking:
a Dr. Pepper but so wanting a Nos, I am a bit of an energy drink addict perhaps too much so, and a little over indulgent on them, but they are just soooo good.
Well I think that'll about do it for now, can't think of any other interesting (or even non interesting) things to add. Ya'll should hop on over to Courtney's cute little site
Marriage with a baby carriage
and check it out. While you are there tell her that nut from Mommy's Rambles sent you : )